Location: 360 Revus Ave., Mississauga, ON L5G 4S4. 905-891-5500
Employees: 17 on-site and 6 drivers.
Awards: Winner of the Readers' Choice Gold Award for best pizza in Mississauga the past 3 years.
Open: Every day (except Mondays).
Service: Computerized ordering system stores customer history for quick turnaround.
Website: amadiospizza.com
The key to operating a successful business can be awfully simple:
1. Give your customers a good product.
2. Price it reasonably.
3. Make sure everyone knows about 1 and 2.
It's this common sense approach that has put Amadio's on the map for those in search of the perfect pizza.
The Port Credit–based business has long outgrown its "local legend" status and now has become a destination point for those across the GTA seeking to enjoy the finer things—for there is pizza, and then there is Amadio's.
It's no fluke that Amadio's is a highly rated and consistent award winner, earning the top rating of five stars by TripAdvisor and ranked the 8th best restaurant in all of Mississauga by the same organization. It's a result of hard work and passion.
"We're good because we work hard at being good," says owner Joe Leroux. "There's no magic formula. We put in the time, we make sure we do things right and we listen to our customers."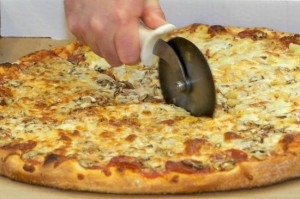 Much of "doing it right" is in the ingredients, Leroux explains. The dough is created fresh on-site in a way that allows the hidden flavours to come through. Then there is the mozzarella, Canadian- made with no added preservatives. The sauce? Made from freshly packed tomatoes, not from concentrate. And the rest of the ingredients? Purchased from local stores.
As for the cooking methods, the pie is hand-tossed and then placed in a traditional stone oven—the way a pizza is supposed to be made.
"It makes all the difference in the world," explains Leroux. "Fresh ingredients make it taste better, and preparing it the old-fashioned way, with a stone oven, gives you the best results. Once you take a bite, you can tell the difference."
Of course Leroux makes it sound so simple, but there is 38 years of experience, experimentation and fine- tuning that makes it all work. He says he puts in long hours and is demanding of his staff, but that's what you need to do to stand out in a competitive market filled with chain stores and franchises backed by big advertising budgets.
Leroux isn't afraid of a little competition and his grassroots marketing approach keeps the Amadio's name active in the community.
A sponsor of numerous hockey teams over the years, Leroux knows that you can build your name and reputation by being a good community member. As such, he is a proud donor to dozens of charitable events including those at schools and churches throughout the Lakeshore corridor. He even feeds the volunteers for the Southside Shuffle free of charge. "It lets people know I'm here, that I'm one of them, that I'm part of this community," he says. "The payback is that they remember me."
And remember they do, as the customers at Amadio's Pizza keep coming back for more.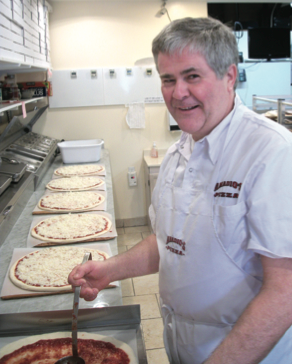 Turning Point: Joe Leroux
All businesses have their loyal customers, but Joe Leroux didn't fully realize how popular Amadio's Pizza was until it became a determining factor in a real estate deal.
Leroux says several years ago he was surprised when he was asked to sign off on the purchase of a home. It seems the buyer wouldn't agree to the deal unless the realtor could prove the home was within Amadio's delivery area.
"They actually came to me and wanted me to sign papers as proof," explains Leroux. "The people wouldn't buy the house unless we delivered to his street."
And so it goes with Amadio's.