For Jason Mercier, General Manager of The Glenerin Inn & Spa, 2014 looks promising.
Mercier and his team have an impressive checklist of achievements to build on. The staff has lifted the level of hospitality service offered, renovations extending patios and building a new lounge have been completed, and two new popular social dining series (Wine & Dine, and Thursday night summer barbecues) have been launched and return this year. Looking ahead: guests who like to use Porter Airlines and enjoy challenging golf, will find that The Glenerin Inn & Spa has affinity promotions for both.
"The Porter Airlines initiative is aimed at the interesting clientele who like to fly Porter Air. They're different than Pearson passengers and we feel they appreciate the boutique hotel appeal of our well-located site, which is only 30 minutes from the Island Airport," says Mercier.
To attract these new guests, The Glenerin Inn & Spa have advertised in the airline's magazine and are offering free shuttle service from the Island Airport to the Inn and back. The Porter/Glenerin shuttle package starts at $199 a night.
Working with the famous Glen Abbey Golf Club, Glenerin has put together a package that includes transportation to the course, golf green fees, a return trip for a beautiful dinner on the patio with an overnight stay.
Right now, Mercier has the food services team putting together a special Winter Festival offer of a table d'h?te menu for lunch and dinner in January and February. "We're coming up with variations on our typically hearty and delicious meals."
An exciting new idea Mercier is exploring involves providing a venue for outdoor art installations in their various natural spaces; it's an intriguing new opportunity to showcase artists' works.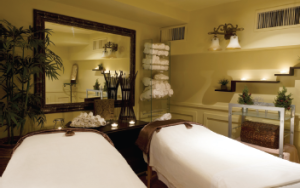 "This winter we're calling all sculptors," Mercier says. "We want to hear from you, so we can begin to work out the selection process and logistics of how we could host an exciting outdoor art show!"
The Glenerin Inn has become Mississauga's wedding site of choice for nearly 100 weddings a year, and making each one of them special and worthy of a wonderful lifelong memory is a challenge Mercier and his staff enjoy.
Warm weather months allow The Spa at Glenerin Inn to move some of its many specialized treatments outside. Originally conceived as a means to attract more visitors, "The Spa gives our guests a more complete and rounded experience, building on our wedding popularity and social events.
"Our goal is to continually improve and expand our range and performance of services. For instance this is an ideal place for a business retreat—we use any of our five rooms to accommodate various types of meetings."
The Glenerin Inn's theatre-style meetings accommodate up to 110 people; the boardroom-style meetings suit 30–40. The Inn is also known for hosting events featuring prominent business and community leaders, such as Arlene Dickinson and Rosemary Sadlier; John Tory spoke to Mississauga Board of Trade members about key social issues. There is complimentary Wi-Fi and the outdoor spaces overlooking the Sawmill Valley can be creative areas for breakout sessions. Of course, custom catering is available to suit any preference.
Words like charming and romantic are just a few of the descriptors that come to mind when you visit the Inn. Several options for your dining pleasure are available, and should your visit include a stay overnight, you can choose from various room styles— no two are alike.
The folks at Glenerin thought long and hard about how to describe themselves, and here it is: "an elegant retreat in a historic urban setting." Designed from a heritage property built in 1927 as the summer home of a wealthy Toronto industrialist, the phrase suits them. See what you think in 2014.
For more information on The Glenerin Inn & Spa, call 905-828-6103 or go to glenerininn.com.