Words by Tara Pepper
I love to entertain and to cook for friends and family; it's one of those things that gives me great pleasure. I have no problem spending a whole day—or sometimes days—in the kitchen making the perfect meal. I know that sounds daunting to some, but for me, it's pure relaxation. When I cook, everything is made from scratch; I think you could call me prepackaged-averse. I really believe that if you're going to take time to make food, you should know exactly what's in it—it just tastes better that way. Maybe I'm just a control freak and want to know that what I cook and eat is healthy… unless it's something that shouldn't be, like cake and in that case, bring on the calories, fat and chocolate!
Having said all that, I have some recipes that are entertaining giants—meaning that they are loved by all—and I've found some shortcuts to share with you. For this first installment, here's my Caesar salad recipe! It's always a big hit when I serve it. There are quite a few ingredients in the dressing, but believe me it's worth the time and effort—and with my shortcut, not so much effort! Whatever you do, don't leave anything out; it's the combination of flavours that makes this so delicious.
Tara's Caesar Salad Dressing
• 6 tbsp extra virgin olive oil
• 3 tbsp red wine vinegar
• 1 tsp mustard powder
• 2 cloves garlic, crushed
• 1 egg yolk
• fresh lemon juice (about half a lemon; and don't use the bottled stuff)
• a dash of hot pepper sauce (Cholula is my favourite but Tabasco will work)
• 2 or 3 anchovies (don't say "eww"—they disappear; you won't know they're there, but the depth of flavour they add is irreplaceable)
• a few grinds of fresh black pepper
• 1 cup freshly grated parmesan cheese
This can be done the traditional way where you mash the garlic into a wooden salad bowl, add the egg yolk and the other ingredients, drizzle in the olive oil, and whisk to emulsify—but who has the time or the inclination? I only do that when I'm out to impress someone and I really don't find that necessary anymore… so why bother? I'm all about speed. So put all of the above into a blender, turn it on, blend for a minute or two and voil?—you're done! Amazingly delicious Caesar salad dressing; you'll never buy bottled again.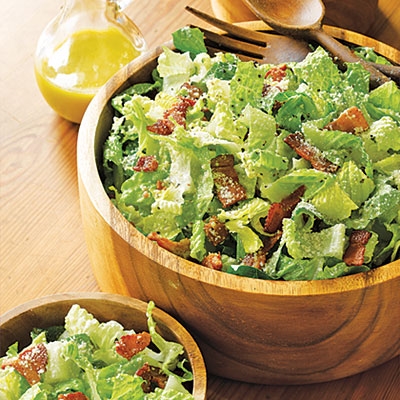 Caesar Salad
Now for the salad. I know that traditional Caesar salad doesn't usually contain much—typically romaine lettuce, croutons and parmesan. I, however, like a little more in my salad:
• 1 large or 2 small heads romaine lettuce, torn into bite-size pieces
• 1 tomato, sliced thinly
• ? medium red onion, slivered (use any onion you like, but slice it very thinly)
• 2 or 3 slices bacon, fried crisp and crumbled—save the fat for your croutons
• parmesan cheese (fresh and shaved from the block; use a potato peeler—it works like a charm!)
I like to put the tomato and onion in the salad bowl about an hour before serving and pour a little of the dressing on top for them to marinate in.
Croutons
Since I'm prepackaged-averse, I really don't like the ones you get in the store. You know what I'm talking about: the little break-your-teeth squares that taste like stale cardboard. It's so much better (and so easy!) to make your own:

• bread (dry out a few slices of bread—a nice Italian loaf works well but really any kind of bread will do—and slice into cubes)
• 1? tbsp butter
• 1? tbsp bacon fat drippings from the bacon you cooked above
• 1 tbsp olive oil
• 1 clove garlic, crushed
Turn on oven broiler. Melt butter, oil and bacon fat in an ovenproof skillet. Add garlic and saut? for 30 seconds. Add bread cubes and toss to coat. Put skillet under broiler for a couple of minutes to toast croutons, stirring halfway through. Be careful to watch, though—they can burn quickly. Once evenly toasted, drain on paper towels to absorb extra oil.
What will you have? The best croutons you've ever tasted, that's what!
When ready to serve, add the romaine lettuce, crumbled bacon and croutons to the salad bowl. Top with the salad dressing until lightly coated—you may not need to use it all so keep in mind that an overdressed salad is not good—save some for later. Sprinkle the parmesan shavings on top and serve. Perfection in a bowl!
Stay tuned for more of my favourites coming to you periodically. Until next time… happy entertaining!