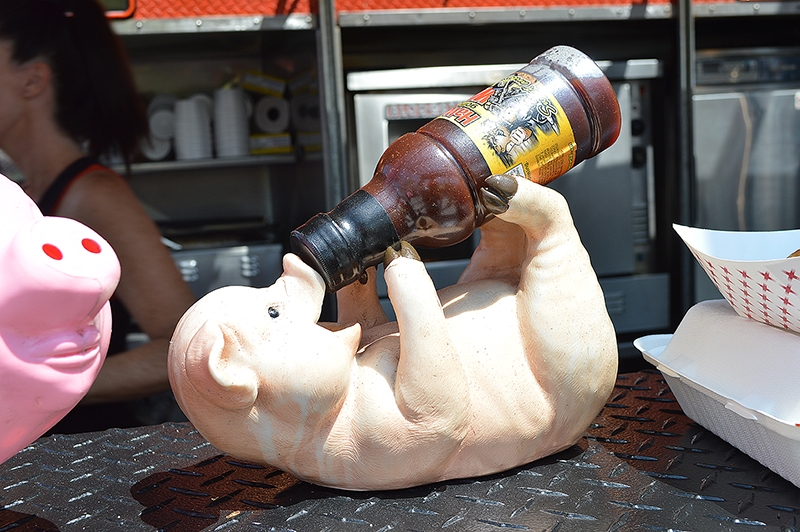 Mississauga Rotary Ribfest held it's eleventh festival this year at Celebration Square from July 17-20. With 14 ribbers and about 17 other food vendors at the event, Ribfest goers left fully satisfied despite the rainy weather.
Those at the festival enjoyed racks of tender, saucy ribs for the main course, sides of bloomin' onions, coleslaw, beans and cornbread, and funnel cake for dessert, all washed down with a mug of (butter) beer.
This year, after a panel of 12 judges taste-tested the ribs, chicken and sauce from all 14 vendors, they declared Bibbs BBQ had the best ribs, Uncle Sam's won the best sauce and Bone Daddy's won best chicken. Judges included representatives from Food and Wine Magazine, Yelp, Insauga and of course Life. The People's Choice for the Best Ribber went to Camp 31 and the People's Choice for the Best Brewer went to Cool Brewery.
The Mississauga Art Council's annual Singfest competition took place at the festival on July 19, where Elise Mariah won both the grand prize and fans' choice. By the age of nine, Mariah knew that music was her passion and began studying voice and piano, according to her website.
Entertainment was provided throughout the event with musicians like Emily Reid, whose voice goes down like moonshine – strong but with a smooth finish, according to her website. The Blackboard Blues Band was also at the festival sharing their music that's dedicated to the finest rhythm, blues, funk, soul and rock music from the '70s to present day.
The ribbers included: Bibbs BBQ, Billy Bones, Blazin' BBQ, Bone Daddy's, Camp 31, Crabby BBQ, Gator BBQ, Hawgs Gone Wild, Kentucky BBQ, Pistol Petes Smokehouse, Silver Bullet, Sticky Fingers, Swine Fellows, Uncle Sams.
The Amacon Rotary Ribfest attracts over 100,000 visitors annually to Celebration Square. Although the admission is free, Rotarians collect donations.
Mississauga and the Mississauga West Rotary Clubs have donated more than $800,000 from Ribfest proceeds. The donations go to organizations such as the Trillium Health Partners Foundation, the Lighthouse Program for Grieving Chidren, Community Living Mississauga and more.
We'd like to congratulate Lucy, Frank and Calvin Gomes (top right picture) who won our three VIP passes to Ribfest! We hope you guys enjoyed Ribfest as much as we did!