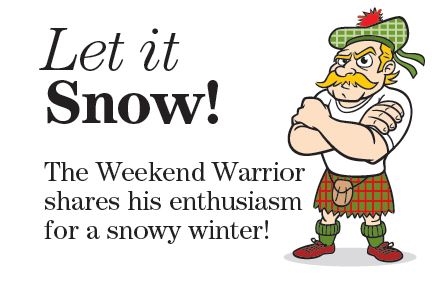 When I was a youngster growing up in the West Island of Montreal, we had really "manly" winters that were long and cold, with snow consistently several feet deep. Back in those days, I earned my independence working as a morning paperboy, hauling the Montreal Gazette to more than 100 homes. In winter, that meant slogging through huge snow drifts on un-shoveled driveways six days a week.
I had a great friend named Brian, whose family owned a big self-propelled snow blower. Brian earned loads of cash clearing every driveway in his neighbourhood while losers like my brothers and I spent hours shoveling just to clear our family's driveway. When it came to dealing with snow, I always wanted to be just like Brian, and a few years back I almost lived that dream. Our business had an office in Kingston at the time and it was buried under a big pile of snow, so I figured it was the perfect moment to get a snow-moving monster of my own.
The idea may have been great, but our timing was terrible. I should have known that smart folks plan ahead and don't wait until the snow is drifting up to the windows before they research and buy the right tool for the job. Price wasn't our primary concern but getting knowledgeable guidance on brands and equipment should have been. Turned out the blower we bought worked great—when it chose to work. Mostly it seemed to jam, stall or just stop altogether. Today, that beast sits, useless, waiting for someone to just take it away.
But behold, fellow Warriors, there is a bright side to my tale of woe. Recently I shared my experience with a fabulous tool system I referred to as the "Perfectly Awesome Series" (or PAS). It's basically a strong power head onto which you can attach a variety of attachments like a hedge trimmer, pruner or even a power broom. Last year some brilliant snow master, perhaps from the frozen tundra of Northern Quebec, created a snow thrower attachment to help make my life complete. Last winter, I often had a throng of gawkers watching as I boldly cleared our walks, patio and the entire driveway without even lifting a shovel.
The key to this happy ending? Try to plan ahead. Work with the pros at a shop you can trust to steer you right. Choose a reliable brand and make an informed decision. When I'm ready for another real snow blower, I'll do my homework and buy smart. Watch out for the new king of the drifts!