Driving around Mississauga for work, baseball games and painting excursions, I have come across some unusual and unexpected sculptural pieces and artistic adornments to buildings installed by business owners, managers and ordinary people of their own volition. These gems enliven our City, brighten their surroundings, surprise us with their creativity, and make us smile. Here are some of my favourites.
MALTON VILLAGE SIGNS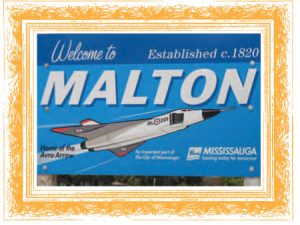 Every time I come up Hwy. 427 and turn left onto Derry Rd. I see this beautiful sign of an Avro Arrow on a two-tone brilliant blue background. While presenting a modern look, it acknowledges one of the most outstanding accomplishments in Canada's aviation heritage with the creation of the Avro Arrow fighter jet. The Avro Arrow is white with red touches and appears to be heading for the great blue beyond. Malton village is steeped in the historical development of Mississauga. It surrounds one of the largest airports in Canada and provides a stopping point for many immigrants, travellers and business people. This colourful sign was chosen by the residents, including myself, to represent not just a moment in its history, but the ever vibrant culture and life of this significant part of Mississauga.
COOKIE GIRLS FINE PASTRIES SHOP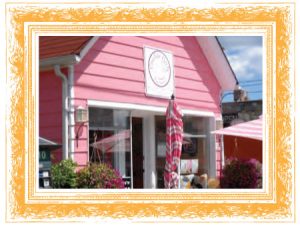 There aren't many shop owners that would be daring enough to paint their building in shades of cotton candy and raspberry pink. This adorable little coffee shop brightens up 13 Stavebank Rd. and tempts passersby to enter and indulge in a European style pastry, ice cream cone or excellently brewed coffee. Inside the cafe is tastefully decorated in clean ivory with cow patterned pillows and chairs. Owners Alex and Greg Boch have managed to weather the damages done last year by an itinerant motorist who ploughed into the front of their store and demolished it. After being closed for 7 months they are back and pinker than ever. This delightful shop with its raspberry striped umbrellas on twin bistro tables, candy pink facade, and co-ordinated deep rose petunias, gladdens the eye and rewards the palate with sweet treats.
THE GUITAR ON STRINGS ATTACHED, Guitar Store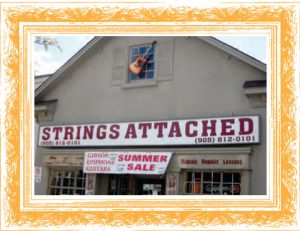 Sometimes it's a store name or a piece of art that catches my eye – Strings Attached has both! At #3 Main Street in Streetsville, owner Kevin Kennerney nailed a real Epiphone guitar on the upper portion of his wonderful, quaint, music store several years ago. Originally a bright red, this guitar is now faded by the elements to a mellow brown and is more beautiful than ever. At a rakish angle, it is surrounded by the blue reflection of an upper window. Assistant manager Michael Amaral explained that this store sells primarily guitars and provides lessons to people from all over Mississauga and surrounding areas. Well known and respected, this family-owned business has displayed a touch of artistry with an unusual gem that makes us want to strum with praise.
THE PAINTING of the APOSTLE SAINT ANDREI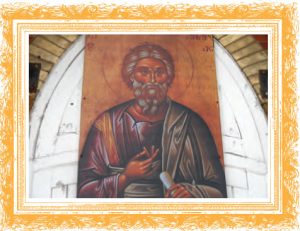 This hangs above the main door of the Romanian Orthodox Church. I love the wonderful old Romanian Orthodox Church sandwiched in between a gas station and apartments/condos on the northwest corner of Dixie Rd. and Burnhamthorpe Rd. Outside above the front door is a painting of the Apostle Saint Andrei, executed in the style of the great artists of the 12th or 14th century in Europe. Done in the Coptic style, it is richly hued in shades of warm browns and dark reds with touches of metallic gold. This iconic painting was placed there many years ago and has been subjected to the elements. It has stood the test of time and still welcomes worshippers to mass every Sunday. Next time you go to Rockwood Mall stop briefly and take a look at this timeless piece of art that reminds us of our artistic and religious heritage.
CAMEOS on the RADISSON PLAZA HOTEL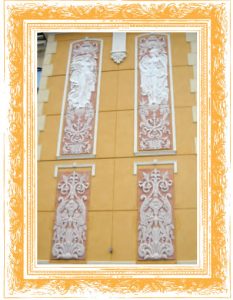 In an otherwise barren, grey box, industrial area glows a building with adornments that feel like I have stumbled across my Grandma's antique jewellery box. The cameo adornments on the Radisson Plaza Hotel at 175 Derry Rd. East near Hurontario Street are absolutely gorgeous. Pale creamy ivory set on rich soft terracotta (light red), they are Victorian in style and grand in size and impact. Each of these lovely ladies looks like they are carved out of alabaster with diaphanous gowns framed in art nouveau swirls, leaves and flowers. So huge, they are an unmistakable treat for the eyes. According to manager Nick Kochhar they were designed by a carefully chosen architect to mimic the art styles popular in Victorian England. At this time in history, Britain was influenced by an array of artistic styles and archaeology from Italy, Belgium, China, Egypt and Greece. The most elegant of each of these countries' artistic offerings is represented in the lobby furnishings, lights, decor and ceiling art throughout this lovely hotel. The beautiful cameos are made from light weight fibreglass from original Spanish and Italian designs and shipped here. These cameos emanate the artistry and grace of the time.
THE CF-100 ALL WEATHER FIGHTER JET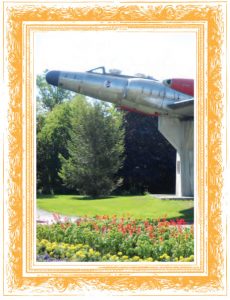 Every corner of Mississauga has a different flavour and feel. I love the real airplane at Memorial Garden Park at Wildwood Park. You can see the CF-100 All Weather Fighter Jet from Derry Rd. just before you get to Goreway Dr. Its silver body is mounted on a concrete plinth and up close you can see how it was made including the rivets. Unique and tilted at a take-off angle, it appears ready to scour the heavens at an unearthly speed. The pilots must have been very brave to fight in this small sleek jet plane. A memorial plaque reads: "The CF-100 All Weather Fighter Jet, powered by Orenda Engines, was designed and manufactured in Malton. It was the first all-Canadian military aircraft. 692 CF-100's and over 2000 engines to power them were produced in Malton between 1951 and 1958. This historical memento was erected by Malton Branch 528, Royal Canadian Legion, in co-operation with the City of Mississauga. A.D. 1974."
When I sit in the small garden where this wonderful memorial is erected I contemplate the role my dad played as a navigator in World War II. He joked that these planes were held together with chewing gum and rubber bands. Dad flew reconnaissance missions at night where he often sat backwards facing the tail; a traumatic experience! He hardly mentioned this part of the war as he lost so many friends but I often wish I could thank him for his contribution to the war, freedom and my family.