In earlier times, an area situated in what is now southwest Mississauga was home to a very popular village, part of which was adjacent to the shores of Lake Ontario.
While meandering through the streets of this pocket now known as Lorne Park, one can view some of the crème de la crème of newer custom homes often created by celebrated architects and builders. Many of the more mature homes possess a timeless, classic, stately flair with expansive grounds and impeccably manicured gardens. The prestige of this neighbourhood is not new to this era—Lorne Park has been popular with the affluent since its inception.
Lorne Park's Past
Starting back around 1886, original lots would only be sold to those prospective buyers who agreed to build a "neat and respectable" home or cottage with a minimum price of $400. Out of the 27 cottages built around that time, 14 were still occupied as late as 2005.
Wealthy Torontonians were excited to claim the area as their summer cottage community, arriving by train, steamboat and sometimes carriage. There was an amusement park which was situated where Lorne Park Estates exists now. The park and resort of the time was named after the Marquis de Lorne, who from 1878–1883 was Governor General of Canada. The naming of the streets was not by happenstance either: the east/west streets were named after some of the more affluent property owners, and the north/south streets were named after some famous poets. The first post office for the village opened in 1892. The Great Western Railway (now the CN Line) completed its construction in 1855. As a result, some large bridges had to be constructed so the old locomotives could pass underneath with room for their smokestacks.
Lorne Park the Location
With majestic, towering trees and large and unique lots, Lorne Park is a mature, established and affluent area with a unique section known as Whiteoaks of Jalna, the setting for a world-famous novel of the same name, was named after the Whiteoak family and their estate, duly named Jalna. Included in this pocket are waterfront parks offering a variety of family activities plus beautiful gardens alongside the Waterfront Trail.
Located in Ward 2, its boundaries are (loosely): the QEW to the north, Clarkson Road to the west, Lake Ontario to the south and the Credit River to the east.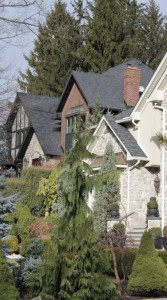 What to Expect Living in Lorne Park
• Average sold price: $1,187,000 (range: $527,000–$3,700,000)
• Average days on market: 34
• Type of dwelling: over 85% of homes are single detached
• List-to-sell ratio: 96.8%
Lorne Park Residents
• 20% aged between 45–54
• 19% aged 30–44
• Over 90% of homes are owned, not rented
• 85% have English as their dominant language
• Many self-made residents; only 36% have university degrees
Teresa Pamatat is a seasoned Realtor ® and is Past-President of the Sherwood Forrest Residents' Association. Care to share something about your pocket? Contact [email protected].