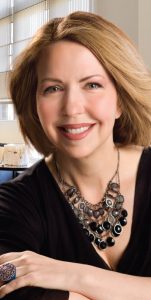 Jane Lockhart, of Jane Lockhart Interior Design in Toronto, recently received several awards from the National Kitchen & Bath Associations (NKBA) in Canada and the U.S. for 2014. The Canadian Pinnacle Award for Design Excellence, the People's Pick Kitchen Award for her Blue English cottage inspired kitchen and third place for medium-sized kitchen. This is Lockhart's second NKBA Canadian Pinnacle Award for best overall design in Canada. An estimated 15,000 consumers on HGTV.com voted for her design in the People's Pick Kitchen Award in the U.S. competition.
Located in midtown Toronto, the People's Pick Award-winning kitchen features pale blue cabinetry, white quartz counter tops and antique brown hardwood floors. The clean lines of traditional Shaker style doors made from solid maple emit a custom furniture aesthetic created by adding the substantial moulding that frames the cabinetry. Fine details including, the custom edging on the countertop that mimics the lines in the cabinetry, intricate patterned tile backsplash, leaded pane glass doors, a decorative fume hood and a cozy, custom built-­‐in eating area.
"What makes this kitchen unique is its attention to detail and it's pale blue colour" says Lockhart. "Cabinets are traditionally a version of white but colour is comforting, beautiful and unique so it is something we ask our design customers to really consider."
Lockhart sees other trends becoming more prevalent in kitchen design such as solid surface counter tops like quartz and the continued movement towards custom-crafted details in the kitchen design whether it's traditional right through to modern.