Words by Jordan Villanueva
The small yet mighty taco is a relatively simple concept: take a corn or flour tortilla and fill it with meat and vegetables to create a staggering number of combinations to suit your taste. This versatility is what makes it so popular, and thanks to fusion cuisine and the recent food truck phenomenon, the taco has broken out of its shell to include flavours not traditionally found in Mexico. Several countries around the world have their own variations of the taco, and below we list some of our favourites.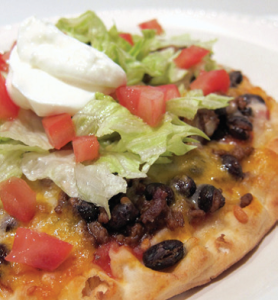 Navajo Taco
Also called frybread or Indian tacos, the Navajo taco is traditionally served in the American Midwest. It's made with a flat deep-fried dough leavened with yogurt or soured milk instead of baking powder or yeast, creating a rich sourdough flavor. The toppings, of course, are up to you, but typically you'll find standard Mexican ingredients on Navajo tacos.
Banh Mi Tacos
Banh mi is the Vietnamese term for the French baguette. Typically, you can get banh mi sandwiches stuffed with Vietnamese sausage and meats, plus cilantro, cucumber, pickled carrots and daikon. Recently, food enthusiasts have adopted the banh mi taco, which puts the traditional components of a banh mi sandwich into a traditional corn tortilla or steamed bao (a type of bread).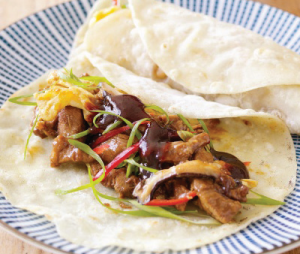 Chinese Moo Shu Pork Crepes
Moo shu pork is made with shredded pork meat, scrambled eggs, mushrooms and thinly sliced bamboo shoots. In Chinese cuisine, it's typically served with rice. In American Chinese cuisine, the rice is replaced by steamed tortilla wrappers called Mandarin pancakes: it's a moo shu soft taco!
Healthy Alternative: Lettuce Wraps
If you're looking for an option with fewer calories than your traditional taco, try lettuce wraps! It's simple: swap your corn or flour tortilla for a leaf of lettuce. Go the extra mile and try subbing out real meat for soy meat, which now conveniently comes in-ground "beef" and "chicken" strip options. Finish it off with your favourite sauces and toppings, and you're in for a crunch you can feel good about!
---
Taco-tastic! 
You can find some delicious tacos at these restaurants:
Brown's Socialhouse
2525 Hampshire Gate, Unit 2B
905-829-2727
Ten Restaurant & Wine Bar
139 Lakeshore Rd. E.
905-271-0016
229 Bar
229 Lakeshore Rd. E.
905-271-4229
Banh Mi Boys
392 Queen St. W.
416-363-0588
Shanghai House Chinese Restaurant
1014 Burnhamthorpe Rd. E.
905-270-1906
Where are your favourite taco spots in Mississauga? Let us know on Twitter @MississaugaLife!