Our gourmets add spice to their dining experience by visiting
one of the city's most authentic Southeast Asian eateries.
Words by Tara Pepper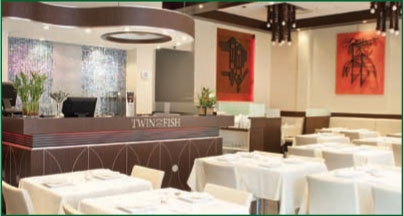 We had been fantasizing about the fresh, robust flavours of Thai cooking for a while.  Luckily Thai restaurants are in abundance in Mississauga. Finding a really good one that focuses on authentic preparations using the freshest ingredients and no ketchup is challenging to say the least. I was looking forward to the adventure and we found a great one!
Twin Fish is tucked into the entertainment complex at the corner of Hurontario Street and Courtney Park Drive in north Mississauga. We visited on a Wednesday night; it was their one year anniversary and the owners and staff were eager to celebrate.
The modern room was light, airy and very pretty. The service staff were very attentive and fast! The large menu included the usual Thai choices as well as some that I hadn't seen before. The menu was chock full of traditional Thai ingredients… tamarind, kaffir lime leaves, galangal… fabulous. Spicier dishes were marked with a flame—but if you're worried, you can ask for them to be prepared mild, medium or hot.
For an appetizer ($7 – 17), we chose the Thai Platter that came with crispy spring rolls, lightly battered calamari, spicy beef satay, juicy chicken satay, shrimp chips and a wonderfully fresh mango, chicken and egg cold roll wrapped in rice paper. Scrumptious!
Many soup and salad choices ($5 – 9) were available and Bobby loves hot and sour soup. Made with black mushrooms, eggs, tofu, bamboo shoots and Thai chilies, the chicken based broth soup had a nice slow burn that started in the back of the throat. The silky tofu, big, fresh mushrooms and firm bamboo shoots were delicious in the slightly glutinous broth. If you've never tried it, do! It's a taste sensation quite unlike anything else.
Because the menu is large, we decided to try the dishes we were familiar with for our first visit and were pleasantly surprised at how good they were. Thai food should always have the hot, sour, salty, sweet flavours combined… and if a chef can get that right, he's a winner.
The South Thai Lamb Curry ($14) was exceptional. The tender lamb stewed in tamarind, palm sugar, coconut milk and thick massaman curry sauce was the best version I have tasted since I had it during my travels in Australia awhile back. This truly was special; when it hit my palate, it was at first slightly sweet, then salty, then spicy and warm. The layered flavours continued to build as I ate and it was delicious! The fragrant jasmine rice that accompanied it was perfectly sticky to sop up the delicious sauce. I'll go back to Twin Fish just for this!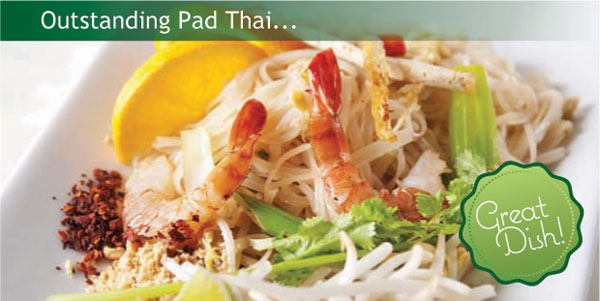 But there was so much more: next up was my second favourite Thai dish, Pad Thai ($14) with chicken and shrimp. The secret to a great Pad Thai is twofold: the sauce and the noodles. At Twin Fish, the traditional tamarind sauce was excellent… just the right combination of sweet and sour. The rice noodle texture was perfect, and that's really hard to do. Believe me, I keep trying to do it right and still haven't mastered it. Perfect is soft with just the right bite (not mushy or hard)—like the perfect al dente pasta. Tender chicken, shrimp, chili, peanuts, green onion… yummy!
The Garlic Shrimp ($12) was to die for! Perfectly cooked shrimp in a silky smooth garlic sauce, sweet and tart, and with a mango salad on the side… I couldn't get enough! I wanted to order another one just because it was so good.
And, of course, we must have our vegetables! Thai Basil Eggplant ($10): long eggplants roasted with garlic, chili, green onions, red and green peppers and basil leaves… so fresh that it startled the taste buds!
Squares of fried tofu—chewy outside but soft on the inside—were included and if you've never tasted it, it's wonderful.
Although we were stuffed, we just couldn't pass up the Crispy Banana and Jackfruit Rolls topped with  honey ($5). Sweet banana and jackfruit, which has the texture of mango but a subtler flavour, were wrapped in rice paper and topped with honey… crunchy, creamy, sweet. A perfect ending!
Twin Fish has a small wine list with good offerings at very reasonable prices ($19 – $35). We had a Santa Margherita Pinot Grigio for $32.95 that matched very well with our food choices.
A nice touch at the end of the meal was a visit from the chef/owner, Henry, to our table. He was a very personable, down to earth guy who has put his heart and soul into his restaurant. He told us about starting out cooking in Thai restaurants in downtown Toronto, moving on to becoming the chef of a successful multi-location Thai restaurant chain in the GTA and now is obviously very proud of having his own restaurant and what he's been able to accomplish. And he told me the secret to the perfectly cooked rice noodles in the Pad Thai … so stay tuned: I'll let you know if I master them!
Do make Twin Fish a destination on your dining list for excellent, traditionally prepared Thai cuisine. I know we'll be visiting again… soon!
Do you have a hidden gem in your neighbourhood that deserves to be reviewed?
A newly opened restaurant or one that's been around for awhile? Let us know!
Email Tara at nightsout@mississaugalife.ca.