Words by Jay Kana
I must admit, I'm a bit stingy at times. I try to do more with less as often as possible to maximize what I have and what I can get out of it. I rarely buy new clothes, shoes are replaced when there's a hole in the sole; I've had the same skiing jacket since 2000 and I'm still clinging to the hairbrush (cleaned weekly) that I had in high school. Yes, I do spend/replace when I have to and have no problem with splurging from time to time. But the intent to get every last mile out of something is definitely part of how I'm wired.
The iconic Ford Mustang, which recently celebrated its 50th birthday last year, has entered the 2015 model year stronger than ever, specifically via the 2.3 L EcoBoost engine. The Ford team has found a way to align 310 giddy ponies that kick out 320 lb-ft of torque, and somehow score 7.4 L/100km on the highway. Now that my friends is doing much more with much less. Yes, there are 5.0 L and 3.7 L engines available for those who have different tastes. However, for my purposes, and perhaps yours, the 2.3 L would be the one I'd favour.
The view from outside is marvellous. There are well sculpted, aggressive lines, a very detailed and striking front end, smooth body shape, complete with a historic-esque rear. Not too shabby for a complete redesign. They were able to modernize a classic and make it look handsome, with attitude.
Inside to make sure you're held in place, as those 310 horses quickly gallop, are cloth, manually adjustable Recaro seats. There's a healthy "thud" when you close the doors and the roar of the engine is quite the sound.
Once in motion, the six-speed transmission my tester was equipped with was very responsive and going through the gears was a breeze.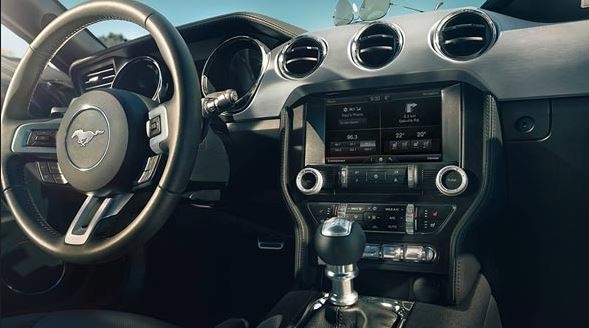 Inside, the centre console, albeit an inch or two too small for my personal liking, was still easy to read and operate. The hard touch buttons and dials are nicely laid out and my music spilled out smoothly via iPhone and Bluetooth connection. Finding my optimal seating position was done with ease. Now the Ford site says seating for four, but I'd put it at three full sized adults as I have long legs and therefore have to push my seat back nearly as far as possible in the Mustang.
For most of my week with the Mustang, the only things aside from groceries I put in the rear seat were my laptop bag and guitar. Here's my plea for next year's model: please, please, please put in a quick release lever to make accessing the rear portion of the car a bit easier. You've done such a great job with the rest of the car (presence, power, pricing) so it's not me coming down hard on you. Rather, it's a small request to improve functionality for us everyday folks. And before anyone starts saying "Jay, it's a sports car, why do you even need easy access to the rear seats" let me say that just because it's a Mustang doesn't mean it can't be driven every day as a primary vehicle. For a touch under $30K, it's hard to find dollars to horsepower ratio so high.
There's always a way to do more with less, whether personally, professionally or otherwise. It's the "work smarter, not harder" chant. It's fine tuning at its best and finding a way to maximize what you've got in your arsenal.  Ford has clearly been sharpening their pencils for the 2015 Mustang 2.3 and the results speak for themselves.
Now if you'll excuse me, I have to get changed into a pair of jeans from 2007.