Words by Tara Pepper
Sometimes great things happen when you least expect them. One night, Bobby and I were in the mood to celebrate… but where to go? We'd wanted to try the new menu at the Breakwater Restaurant for a while and as it turned out, it was the perfect choice!
Breakwater is in the Waterside Inn in the heart of Port Credit. The well-appointed dining room is large, yet somehow still manages to feel intimate. The room has beautiful coffered ceilings, huge windows and extra comfy chairs. We couldn't wait to see the menu and get started on our feast. Our waiter, Sasha, was gracious and inconspicuous yet very helpful. He told us that the chef had been groomed for his position by being the sous chef there for seven years before he took over the kitchen. And well-trained he turned out to be!
The new menu offers fresh choices in tapas and lighter fare. Diners can now enjoy the sophistication of this spot—whether it's for a quick snack, a light meal or a special dinner like ours.
To start, the teasers, tapas, soups, salads and appetizers ($8–23) have something for every taste including calamari, Kobe beef sliders, pizzas, avocado salad, smoked salmon and tequila shrimp. It was really difficult to make a choice—so I didn't! Instead I opted for the tasting platter ($20) and was thrilled with all kinds of tasty tidbits.
It's said that you first eat with your eyes and that was very true at Breakwater: the presentation was art in itself. A huge square plate was set down in front of me with a flourish and I devoured everything with my eyes first! Rows of treats created singular vignettes and all together it was a masterpiece! A shooter of gazpacho was cool, crisp and smooth with not a bit of the bitterness that I've experienced before. A Chinese soup spoon was filled with tomato and lobster soup that was very creamy with a touch of lemon; I savoured it like I would a fine wine. Next came the most perfectly cooked, sweet and succulent scallop I have ever encountered followed by a large, slightly overcooked shrimp that was full of flavour with a slice of avocado and a papaya puree that had a surprising hint of heat on the tongue. What was that? Horseradish? Yum! Next, a piece of lightly smoked salmon served with a perfect accent of diced tomato—delicious! And last but not least, an Asian noodle salad with just the right touch of sesame oil, the sweet crunch of slivered peppers and toasted sesame seeds. Lovely!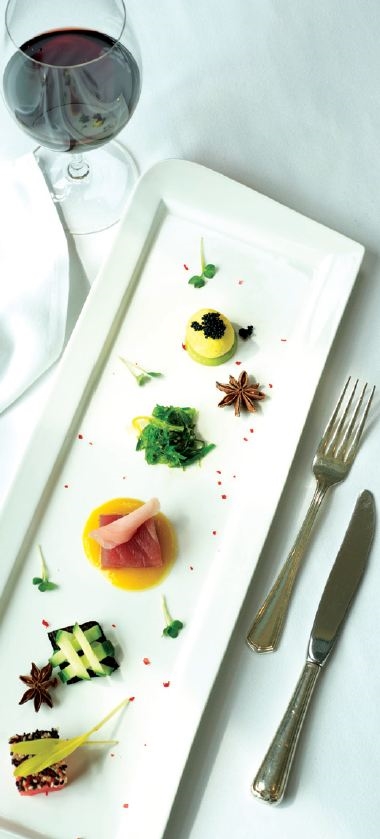 And that was just my appetizer! Bobby chose the lobster thermidor and a Caesar salad as his first courses. Again, art on a plate with the lobster being served in half of a lobster shell. It was simply spectacular with an exceptional balance of cheese to cream to lobster. The lobster was sweet and gentle in its texture and the accompanying bacon, artichoke and arugula salad did not overpower the lobster at all. I want to go back and have this as a main course; it was exceptional. His Caesar salad was cool, crisp and lightly dressed with shaved parmesan as the topping. Wonderful!
Mains ($19–45) include spaghetti, Wiener schnitzel, chicken, seafood, prime rib and steaks. I decided on one of the house specialties, seafood risotto ($32) and was not disappointed. Actually, I was very surprised when it arrived: on a long rectangular plate, a bed of tomato risotto held the seafood which was served individually, allowing me to taste each piece separately—very different from the regular presentation that you would expect. A Bahamian lobster tail was sweet and slightly crispy around the edges adding that wonderful charred flavour and texture. A huge, plump scallop, an equally gigantic shrimp and a delicious square of salmon completed the parade. The risotto was creamy and perfectly cooked with basil shoots which were very interesting, adding a mild yet distinctive essence. It was simply divine.
Bobby decided on the New York strip loin ($33). While it was cooked slightly more than the medium rare that he likes, it was very tender and the flavour was amazing. The veal jus reduction, tomato marmalade and onion jam were taste sensations on their own, but together they created a symphony of tastes in the mouth. Oh my! Mashed potatoes and a mushroom medley were the perfect accompaniments for the steak. He was not disappointed—it was spectacular and so surprising that you could still savour the many flavours in your mouth even after the plates were cleared from the table.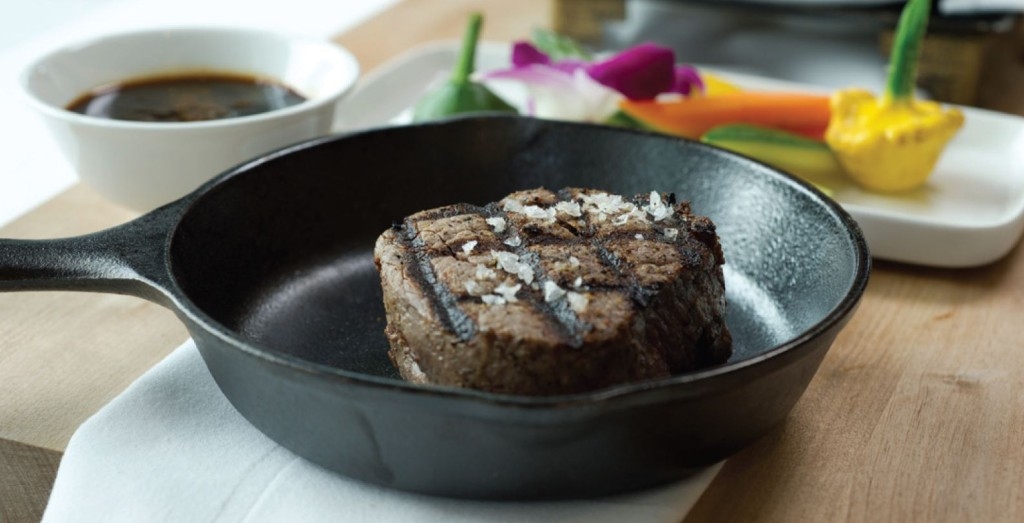 The excellent wine list would appeal to everyone. We chose a California Bogle Zinfandel which was perfect with our meals.
Among the desserts available are ice cream waffle cones ($3) and bananas foster for two ($18) prepared tableside—what entertainment! I chose a chocolate medley which included a white chocolate molten cake, a chocolate pot de cr?me, fruit skewers for dipping and a chocolate biscotto. Everything was heavenly. Bobby had the apple tart, individually made and served with a scrumptious cr?me Anglaise and butterscotch sauce. So good!
Bobby and I left the Breakwater Restaurant feeling like we truly had a great dinner. Over-the-top atmosphere, service and food: it was a delight. I know we'll be going back soon (I'm craving that lobster thermidor already!) and I hope you'll give it a try and enjoy the uniqueness and deliciousness of this great landmark restaurant!
Breakwater Restaurant
The Waterside Inn
15 Stavebank Rd.
905-891-6225
www.watersideinn.ca/breakwater