French Polynesia has a population of approximately 275,000. The capital city is Papeete on the island of Tahiti. Tahiti has an estimated population of 184,000.
---
Paradise in the South Pacific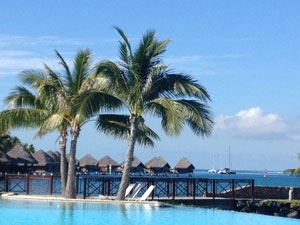 It was sunny and warm. It was early in the day on November 16. We could see the steep mountains of Huahine Nui, French Polynesia from the window of our balcony stateroom. We were on board the luxurious m/s Paul Gauguin on a seven day cruise of the Society Islands. We had embarked the Gauguin the day before.
French Polynesia is made up of 118 islands and atolls scattered over 3.9 million square kilometres. By comparison, Continental Europe is just over 2.5 times larger at 10.2 million square kilometres. Its islands are divided into five groups or archipelagos: the Marquesas Islands (North-East), the Tuamotu Islands (East), the Society Islands (West), the Austral Islands (South-West) and the Gambier Islands (South-East).
We watched BBC News while we waited for our breakfast waiter. The TV images showed Buffalo, NY buried under a seven-foot snowfall. What a contrast! On this, our third day in Paradise, Huahine beckoned outside. We had already become immersed in the natural beauty that surrounded us and in the cheery hospitality of these charming people. Winter seemed distant indeed; more like figments of our imagination. We were on a different planet, where the water and air temperatures had the same averages: 26°C.
The Gauguin had dropped anchor in water that is said to have visibility up to 45 metres deep. The turquoise ring of colour surrounding the islands defines the lagoon and the colour of the lagoon contrasted with the blue of deeper water where we were anchored. The island itself seemed powerful with its ridged cliffs towering above the water. The surf was at a considerable distance out to sea at the coral reef. We were in another world!
Our minds drifted to the other Paradise, Hawaii. We realized French Polynesia's lagoons were formed over a considerable period of time, at least a million years we are told. We concluded that Hawaii, by comparison, is at a relatively early stage of formation. Hawaii's lagoons are yet to be formed, craters are not yet submerged. The existence of lagoons extends real estate, hotels build romantic and exotic thatch-roofed bungalows over water. In Bora Bora, our guide pointed out Jack Nicholson's, and Marlon Brando's bungalows nestled alongside each other. Add welcoming people and islands with buildings not higher than a palm tree! French Polynesia enchants you!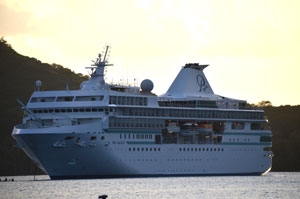 The m/s Paul Gauguin, once part of the Radisson Seven Seas Cruise fleet, has been cruising these waters continuously since 1998. There is everything imaginable on board to satisfy the interests of its guests. In its Marina, accessible from deck 4, guests can be outfitted with snorkel or scuba gear. For those wishing to explore above the water, kayaks and paddle boards are available. For those seeking a different experience, helicopter rides, wave runners, paragliding and more can be arranged. Preview an action video of shore excursions.
Talented native French Polynesians co-mingle and entertain guests on board the ship, and at BBQ lunch at a motu next to the island of Taha'a. These are the Gauguines and Gauguins, true magnets for guests. In La Palette Lounge on deck 8, enjoy the company of fellow guests as you listen to their folkloric singing to guitar and mandolin accompaniment; join them in sing-alongs. And on stage at the Grand Salon on deck 5, join others as they perform the dances of the Polynesians – an enticing almost provocative style by the Gauguines and warrior-like performances by the Gauguins. Check out our BBQ Motu visit off Taha'a here.
Paul Gauguin Cruises does not disappoint the curious-minded. There are lecturers on each sailing. On our cruise we enjoyed an entertaining and informative talk by Mark Eddowes, an archaeologist and anthropologist. We missed Jean-Michel Cousteau; well known for his work in oceanography. Mr. Eddowes came direct from a dig to present his talk. On the next day, he led a group to archaeological sites and current digs. Mr. Cousteau shares his extensive research and knowledge of oceanography through video and other media. He also leads guests on dives—quite a treat for avid divers at one of the world's premier dive locations.
Having finished breakfast, we prepared to join others on our first shore excursion. We set out with Paul, an anthropologist and tour guide, on a visit to the sacred sites of Huahine Nui and a small vanilla plantation. Paul gave us insights into Polynesian migration and history, the relatively good standard of lifestyle French Polynesians enjoy today, and information on the governing arrangement within this French Protector.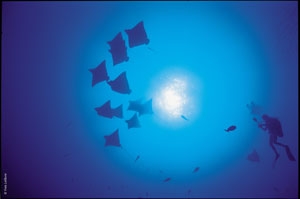 Getting to Papeete, Tahiti
Air Tahiti Nui is a good choice for your flight from Los Angeles to Papeete. For cruisers on Paul Gauguin Cruises, we recommend you purchase air and pre or post-cruise hotel accommodations from Paul Gauguin Cruises. This assures a hassle-free travel experience that includes transfers from and to the airport, to and from the hotel and to and from the ship.
The overnight flight on Air Tahiti Nui from Los Angeles to Papeete is eight hours long, similar in length to flights to Honolulu or Frankfurt from Toronto. The time difference is also similar: French Polynesia and Hawaii are both five hours behind Toronto; and Frankfurt is six hours ahead.
A Popular Stopping Off Point for New Zealand and Australia Travellers 
The five-star InterContinental Papeete Hotel is astonishing! Our porter's tattoos marked him as from the Marqueses Islands. He wore nothing other than sandals and a pareo. We were overawed by the beauty and scenery surrounding this hotel: its infinity pools, over-the-water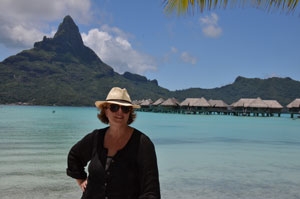 bungalows, and a view of Moorea Island with its ever-present white puffy clouds; all this against a blue sky, offset by gardens and sea life. The hotel's services and staff made us feel as though we were long-time guests. New arrivals such as ourselves were easy to spot.
Like us, their eyes were open wide as were the lenses of their cameras. Several guests we met had extended their cruise vacation at Papeete or at one of the other islands. Others had stopped in on their way to or from New Zealand and Australia. The flight to New Zealand from Papeete is only four and a half hours long. The InterContinental Papeete provides a dinner and dance show each Friday. We watched a performance that depicted Paul Gauguin's life and passing of in French Polynesia. An impressionist painter, Paul Gauguin is buried on the island of Hiva Ora, in the Marqueses. The two short video clips following are of a Friday night performance at the InterContinental Papete depicting Paul Gauguin's life and death in French Polynesia. (Watch the first video here, and the second here.)
After our two-night stay at the InterContinental Papeete, we had become proficient in the use of the words la orana (hello) and maruru (thank you). We were ready for our seven-day cruise.
m/s Paul Gauguin has a guest capacity of 332 on seven decks and a staff of 217. The serving staff for the most part are Filipino. The staff had phenomenal recall of our beverage preferences and gave the impression they had known the guests from previous lives.
All three of its restaurants—L'Etoile, the main dining room on deck 5, Le Grill on deck 8 next to the pool, and La Veranda on deck 6 presented excellent gourmet meals. It was commonplace for us guests to include, "What did you have for dinner?" in our conversations. And "Did you have the moon fish?" This fish meal was presented once and talked about for days. (We missed the chef's demonstration attended by several where he showed how to carve the moon fish named for its circular shape and measuring 5.5 foot long (or was it 5.5 feet wide?)). Guests must make reservations for dinner at La Veranda or Le Grill. Both are transformed to an upscale experience for dinner, and there is no charge for upscale dining!
The Gauguin's selection of wines and other spirits were excellent—sommeliers were well schooled and pay close attention to individual preferences. Many guests chose the Gauguin to celebrate special occasions. Honeymooners received special attention, as did wedding and birthday celebrants. This is a wonderful destination to celebrate such special events.
On our cruise, roughly half the guests were from the US. Forty four from France, 31 from Australia and New Zealand, 24 from Canada followed by a mix from Tahiti (a honeymoon couple with an entourage) Europe, Central and South America, Asia (China, Thailand) and Haiti.
---
About Cruise Holiday of Clarkson and Clarkson Tours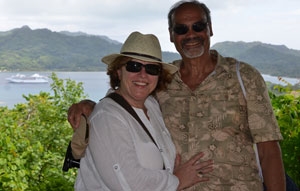 Zaneta and Joe Rochemont are owners of Cruise Holidays of Clarkson and Clarkson Tours, with offices in Mississauga. Within the Cruise Holidays network, they achieved President Circle status in the shortest time of any store and have retained that status every year since 2009. Zaneta is the President and COO of Cruise Holidays of Clarkson. She entered the travel business after a successful career in teaching. Joe retains the position of Director of the Company and supports its operations through oversight and general operational support.
Joe is a past executive of a major Canadian Bank and continues to own and operate a management consulting firm specialized in information technology management and advice. The staff at Cruise Holidays of Clarkson including Zaneta and Joe have each accompanied groups on travel and custom tours to virtually all parts of the world. They can be reached by telephone at 1 866 919 2111 or by email at [email protected] to inquire into individual, group or family travel, or to plan your special event. See our website at clarksontravel.pgcruises.com.