Words by Trish Dugan
When you hear breaking news reports announcing that innocents have been slaughtered yet again by terrorists, do you pause and wonder how the families of the victims could possibly heal from the soul-searing, heart-rending pain of these horrific acts?
If you ask internationally renowned South Asian dance soloist Lata Pada, who is also the artistic director and principal choreographer of Sampradaya Dance Creations and founder of Sampradaya Dance Academy, the answer lies in the therapeutic nature of art.
Pada should know; her world was shattered in 1985. She was in India to perform and her family, who had remained in Sudbury, planned to join her there for a vacation. They never made it. On June 23, 1985, Pada learned that her daughters Brinda and Arti and husband Vishnu had been murdered in the terrorist explosion of Air India Flight 182.
While Pada acknowledges that she spent much of the next 15 years in a sort of numbness, she credits her art for helping her heal. "Dance was the answer," she says. "Founding the dance company and teaching others saved my life."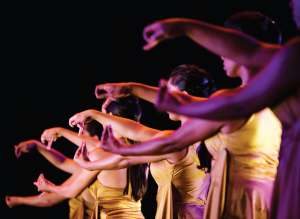 In 2000, Pada staged Revealed by Fire, which told the story of her terrible loss and her transformation from heartache to acceptance. This work was named the "most important production of 2001," by the Toronto Star's highly respected dance critic Michael Crabb.
Over the years, the dance company has produced several award-winning dance works and performed on prestigious stages locally and internationally. This year, Sampradaya Dance Creations celebrates its 25th anniversary with a new production, Nirantara, running May 21–23, at the Fleck Dance Theatre at Harbourfront Centre in Toronto.
"The magic, beauty and mystery of life is expressed beautifully through dance," says Pada. "It simulates the imagination and change in society, reflecting the hybridism of our lives and transcending the borders of culture, religion and ethnicity."
Classical South Asian Dance and Terminology
Sampradaya is the flow of knowledge from guru (teacher) to shishya (disciple) in a highly individualized oral tradition. Pada studied under the eminent gurus K. Kalyanasundaram and Kalanidhi Narayanan. This training provided the foundation for her distinguished international career as a solo artist, with performances at The Metropolitan Museum of Art in New York and the World Bank in Washington, DC. In 1992, she gave a command performance for the president of India.
Bharata natyam is a Sanskrit phrase that combines the word bhavam (expression), ragam (music), thalam (rhythm) and natyam (dance). A traditional performance of bharata natyam lasts about two hours without intermission and is performed by a solo dancer who tells a story through facial expressions, hand, arm and neck gestures, and feet that pulse in elaborate counter rhythms. Changing characters in a story are signaled with a special turn position rather than a change of costume. Percussion, classical singers, and melody instruments conducted by the gurus form the musical ensemble that accompanies the performance.
Sampradaya Dance Academy
The continuous sound of children's laughter marked with the occasional squeal bounces from the walls of the Sampradaya Dance Academy. The academy, housed in the same building as Sampradaya Dance Creations, is brimming with life and energy.
A glimpse inside the studio, with its specially designed flexing wood floors (this style of dance involves some stomping and beating of the foot), reveals a sea of blue uniforms. After about 12 years of training and graduation, students get to wear the silk costumes, elaborate jewellery and makeup of bharata natyam.
"Here, children not only learn dance movements, but they also develop character-building qualities—discipline, confidence, persistence, grace, body language and much more—that will serve them well in any life path they choose," says Pada.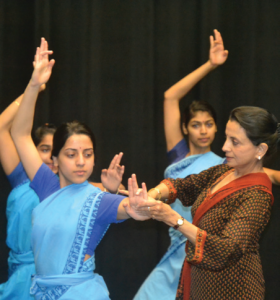 Living the Life Well
As a proud Canadian citizen and resident for more than 50 years and equally proud of her homeland, Pada was honoured to become the first South Asian to receive the prestigious Order of Canada in 2009. In 2011, she became one of 15 people in the world to receive the Pravasi Bharatiya Samman award by the president of India.
In 2012, she was honoured with the Queen Elizabeth II Diamond Jubilee Medal for her contributions to the community as a Canadian citizen. In 2013, she was inducted into Mississauga's Legends Row and was named one of the "Most Influential Individuals of the City of Mississauga." After just a few minutes with Pada, it's obvious that these prestigious honours pale against the smiling faces of the over 45 photos of graduates mounted on the walls of the Sampradaya Dance Academy.
"I am profoundly overjoyed and humbled that I have had and continue to have the opportunity to help shape the personal and artistic development of these fine young people. This is my true reward," says Pada.
" title="